Purchase a Finders Keepers Gift Certificate
The perfect holiday gift for the fashion lover in your life!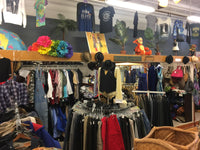 Finders Keepers Consignments
We offer a mix of vintage, runway, designer, and off the rack styles to compliment any lovely human being.
At Finders Keepers we take pride in selling well taken care of items. You'll be receiving items that are free from defect and that have been washed or dry cleaned, steamed or ironed, and are in great condition. 
Most items have minimal wear and have spent more time on a rack than on a person. Any wear will be noted in the item's description and this will be reflected in the price so you can shop with peace of mind.
Thank you for shopping Finders Keepers!
Style, Fashion and Flair
Open seven days a week!
Monday: 10 a.m. to 6 p.m.
Tuesday-Saturday: 10 a.m. to 6 p.m.
Sunday: 12 p.m. to 4 p.m.
Consign With Finders Keepers